Sylvanian Families Calico Critters Buttercup Cow Family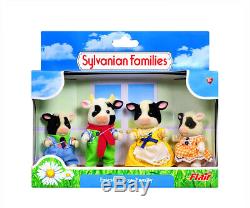 This is the brand new. Sylvanian Families Calico Critters Buttercup Cow Family. Loves walking through the fields and woods around Sylvania all alone. He enjoys the peace and quiet, and gets all huffy and bad tempered if he is disturbed during one of his thoughtful strolls. Some children do tend to find him frightening, but what they don't realise is that Hornbull is simply preoccupied with other, more important things.
So inspired is he by all the lovely trees and flowers around him that he likes to compose poetry in his head. Once it took him the whole afternoon to think of something that rhymed with'willow' and he is still trying to come up with something that goes with'daffodil'!
Is very nosey and likes to know everything that is going on in Sylvania. If she sees anyone off shopping or out for a walk, she will wander over to see what is in their basket or to simply have a chat. Nobody ever seems to mind talking to Daisy as she is always very cheerful and is known for her charitable nature and kind heart. A problem shared is a problem halved, is her motto and folks of all ages have benefited from her wise words and common sense. In fact, the only people in Sylvania who don't always take her good advice is her own family! He just can't seem to stand still for long and runs, skips and jumps everywhere. All this pent up energy makes Paddock very good at the playground game of'catch' as he rarely misses a ball.
But he is always at a disadvantage when the children play a game of'hide and seek' as he simply can't stand still. No sooner does he tuck himself behind a large tree than he gets bored and fidgets. First he swishes his tail, next he wiggles his ears, and then it's not very long before he breaks cover and the game is over! Does not like to rush anything. She is the total opposite of her brother and always walks slowly and gracefully around the village, never running or jogging anywhere.
In fact, Annabell likes to take her time over everything and getting ready for school in the morning often takes her hours. She is never happy unless her white petticoat is clean and her favourite yellow dress is free from creases.
Of course, all that care goes to waste the moment she meets up with Paddock her brother is so boisterous that it's not long before she is covered in mud and grass stains! Comes brand new in box. Box is in good condition with minor shelf wear and fraying at the corners. The item "Sylvanian Families Calico Critters Buttercup Cow Family" is in sale since Saturday, October 26, 2019. This item is in the category "Dolls & Bears\Dollhouse Miniatures\Animals & Pets". The seller is "tama_boutique" and is located in Alameda, California. This item can be shipped worldwide.
Country/Region of Manufacture: United Kingdom
Features: Vintage
Brand: Sylvanian Families
Year: 2010 (Retired)